This tour is an absolute must-do for locals and visitors alike.
Arrive at iconic Sunshine Coast watering holes with a rock star landing in your very own helicopter.
You will be sure to hear your fair share of tall tales, meet some laid back locals and the charismatic publicans that define each of the establishments, all whilst on your quest for the Sunny Coast's coldest beer.
We visit the following establishments in order: The Apollonian Hotel, Kenilworth Hotel, Flame Hill Winery, The Exchange Hotel at Kilcoy and The Woodford Hotel.
Please note: You can choose between Flame Hill Winery and Flaxton Gardens between Wednesday to Sunday
We spend approx 1 hour at each venue.
Exclusions: Lunch and drinks.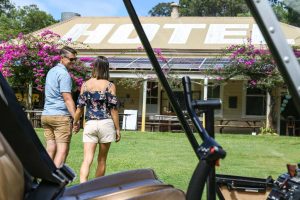 Full Day: 5 pubs
Duration: 7 hours
Cost:
$995 per person
*cost is for minimum 2 people
Half Day: 3 pubs
Duration: 4 hours
Cost:
$790 per person
*cost is for minimum 2 people