Your private aerial limousine moves you from one world to another in complete style and safety on this exceptional dinning experience.
Enjoy the magical sensation of helicopter flight above the majestic coastline of the Sunshine Coasts' beautiful beaches to Noosa Head.
Journey into the mysterious hinterland mountains with panoramic views of deep valleys and high tropical ranges.Unsurpassed views of the Sunshine Coast.
Returning via the Glass House Mountains, The Pine Forests of Beerwah, the beaches of Caloundra and Maroochydore completes a stylish day of relaxation, indulgence and adventure that only dreams are made of.
Four separate courses with adventure in your exclusively chartered helicopter.
Inclusions: Transfers to and from our base from Maroochydore or similar distance. Extended Helicopter touring of Sunshine Coast Beaches, hinterland valleys and mountain ranges. Pre-morning tea drinks, Gourmet Morning tea, Pre-lunch wine tasting and a la Carte Gourmet lunch all at separate locations.
Departing 09:30 Returning 16:30 approx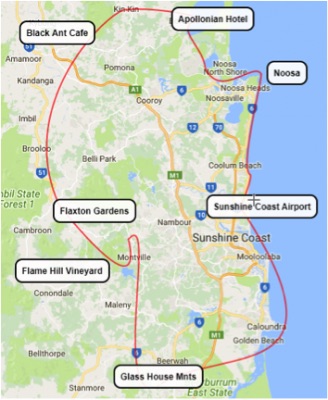 Duration
7.0 hours (approx.) including 5 landings
Cost
$1375 per person
*cost is for minimum 2 people