MOUNTAIN WINE BAYSIDE BEER & SEAFOOD SENSATION

Journey into the mysterious hinterland mountains with panoramic views of deep valleys and high tropical ranges of the Sunshine Coast and the Glass House Mountains.
Experience the sensation of soaring above the majestic Queensland coastlines
The azure waters of pacific are simply stunning.
Look out for all manner of sea life including Whales, Dolphins, Manta Ray and Sharks.
Returning via the beaches of Caloundra and Maroochydore completes a stylish day of relaxation and adventure.
Inclusions: Extended helicopter touring including tropical mountain vistas, landing for morning tea in the Montville Mountains, The Glasshouse Mountains, Landing for a few pre-lunch beers, landing at The Gutter Bar for lunch (massive prawns and the very best oysters).
MEALS AND DRINKS ARE NOT INCLUDED IN PRICE
Mountain Wine Bayside Beer & Seafood Sensation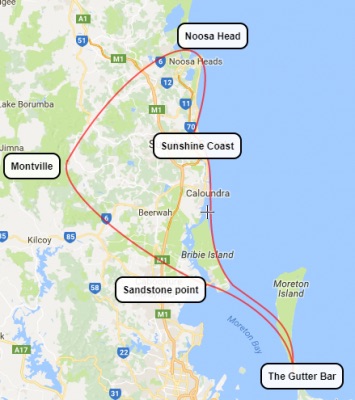 Duration
6 hours Approx. – The day is yours.
No rush.
Cost
$1190 per person
*cost is for minimum 2 people